Will Spanish consumption continue to grow?
Por José María Romero Vera
22 de marzo de 2018
The crisis faced by the Spanish economy since 2008 has had profound social consequences, which have especially affected disadvantaged groups such as the long-term unemployed. On the other hand, in recent months an important part of media attention has been focused on the events in Catalonia and the political uncertainty associated with them. With the advance of technology we can now follow not only Trump's incendiary tweets but also tragic events both in Spain and beyond our borders almost in real time. In this rather negative social vision that is reflected in the media, it is not surprising that economists are often asked questions that reveal the disbelief in the positive data that the Spanish economy has reported in the last three years, and particularly about its capacity of duration in time.
This fact is particularly evident in the case of the analysis of the evolution of household consumption, where even an important part of our profession has long predicted a deceleration of consumption at a higher rate than the figures have shown. Thus causing the mild deceleration of the consumer spending rate during the last quarter of 2017. However, the most recent indicators point to the fact that consumption growth has accelerated in the first quarter of 2018.
In the first place, the Consumer Synthetic Indicator recorded in March 2018 a year-on-year increase of 3.6%, similar to the figures registered in January and February, whose figures were in the range of 3.5%. Secondly, the first known data related to this year's retail trade was also positive, such that in January the annual rate of the General Retail Trade Index at constant prices increased by 2.2%, in the corrected seasonal and calendar effects series. The improvement in retail was generalized by both types of goods and modes of distribution. Finally, the indicators of important sectors of the Spanish economy are also positive, as reflected by the number of tourists in January that increased again with respect to the same month of the previous years, reaching 4.1 million tourists; registrations of automobiles in February, up by 13% year-on-year; and the purchase and sale of homes, which increased by 23.1% in January compared to the same month in 2017, thus adding 47,289 operations, its highest figure since May of 2008.
In this way, GDP growth will again be supported by the strength of household consumption, deemed to increase by 2.3% this year and 2.1% next year. This would imply a slight deceleration in relation to the growth of 2017, which will be partially offset by the increase in public consumption (1.7% in 2018, 1.9% in 2019). In this scenario, at Equipo Económico we maintain our December forecast of a 2.8% and 2.4% GDP increase in 2018 and 2019, respectively.
Several factors will continue to support positive consumption data in the coming months. The process of strong job creation continues, therefore increasing consumer confidence and expectations; consumer financing will continue to grow, still supported by low interest rates. In addition, the Spanish economy reached last year pre-crisis real GDP and per capita GDP levels, which in a context of moderate growth of prices translates into an increase in disposable income and family wealth. This is not the case of consumption, despite its positive evolution. We estimate that it will reach its pre-crisis levels in the second quarter of 2019 (see chart 1), leaving room for recovery.

CHART 1. NATIONAL GDP, HOUSEHOLD CONSUMPTION AND EMPLOYMENT CHANGE AGAINST PRE-CRISIS LEVELS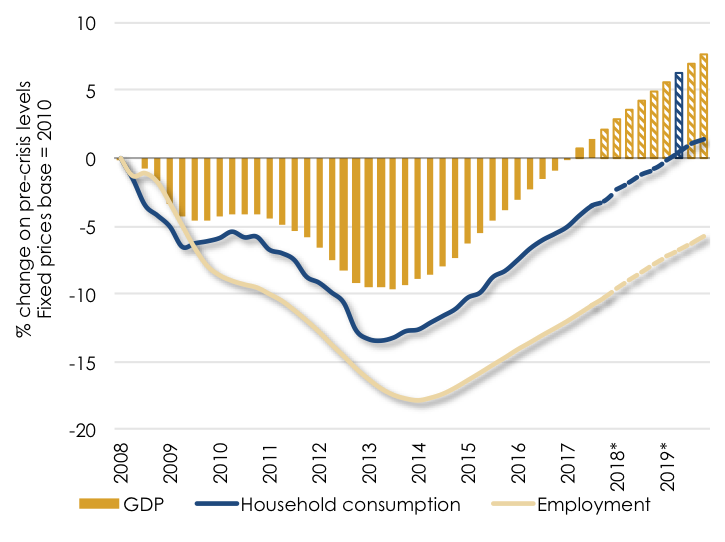 Source: Eurostat, Ee. (*) Forecast Ee.
Under these conditions, it is possible to affirm the following. In a context of global economy strengthening, the Spanish economy, its GDP and household consumption have started the year 2018 with strong inertia. They do so after three years of solid growth, which has been above euro area average. This, undoubtedly, has been supported by the economic reforms undertaken in previous years. The main risks to this positive scenario are mainly political, associated with populist movements inside and outside of Spain.
Associate principal, Economic analysis and International affairs, Equipo Económico