After the unprecedented and generalized fall in global activity last year due to Covid-19, the vaccination process has proven to be the most effective economic policy in 2021. Global demand has vigorously recovered, albeit with marked regional differences. This clashed with halted global trade and supply, leading to a global inflationary context. Prices have increased internationally over the last few months, mainly due to the disruption in global value chains and the rise in energy prices. Although these factors may disappear in the short-run, inflation would persist in the medium term if the rise in prices is translated into future expectations.
In this context, in the Unites States the Fed has already announced the scaling back of its massive debt purchase program, while Latin American Central banks have already increased reference rates; in addition, social and political unrest are hindering recovery. As for Europe, it faces an uneven recovery. The suspension of EU fiscal rules has enabled extraordinary support, while the accommodative monetary policy has ensured financial stability. At supranational level, NGEU funds are a key opportunity to boost economic recovery by means of financing structural transformation.
In Spain, activity and consumption indicators have undergone a generalized comeback, although with relevant sectorial exceptions. The tourism sector has benefited from the lifting of restrictions and advances in vaccination. Nevertheless, the 2021 summer campaign was driven mostly by national tourists and, as a result, the tourist season has been weaker than initially expected. The pace of job creation remains intense, with a relevant nudge by the public sector.
As a result, the Spanish economy maintained a robust pace of recovery during the second and third quarters of 2021, although weaker than expected in the face of more volatile domestic demand. In this sense, we have conducted a relevant downward revision since our last edition, motivated greatly by the correction of quarterly growth estimates by the Spanish INE. Consequently, at Equipo Económico (Ee) we foresee that we will witness an incomplete economic recovery, with a rebound of Spanish GDP set around 4.7% and 5.3%, over 2021 and 2022 respectively. Therefore, the Spanish economy would only attain its pre-crisis activity levels in 2023.
TABLE 1: Ee SPANISH MACROECONOMIC OUTLOOK AND FORECASTS*​.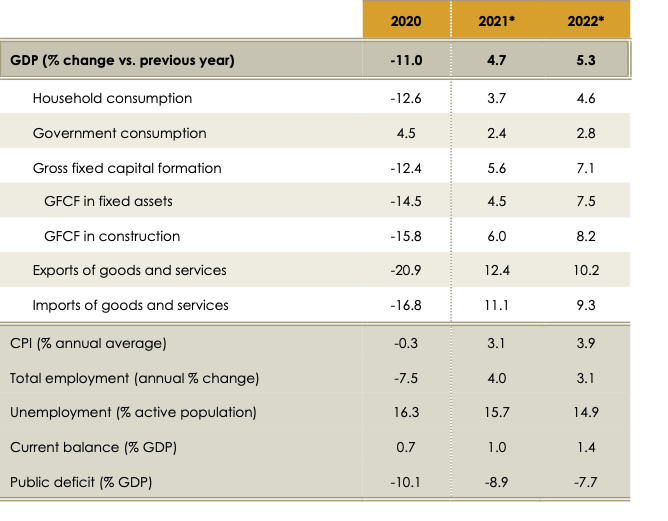 Source: Spanish Office for National Statistics, Equipo Económico. (*)
Equipo Económico forecast for 2021 & 2022 (Nov-2021).
Additionally, as we stress in our "chart of the month", the inflationary context will significantly offset the benefits derived from Spanish GDP growth, disrupting the sustainability of the economic recovery. At Ee we forecast that annual average CPI will grow at 3.1% in 2021 and at 3.9% in 2022, because of rising energy prices and supply shortages. For the time being, price hikes are expected to slow down, converging towards the ECB target from the end of 2022 onwards.
CHART 1: RECENT PERFORMANCE AND Ee OUTLOOK OF MONTHLY CPI IN SPAIN.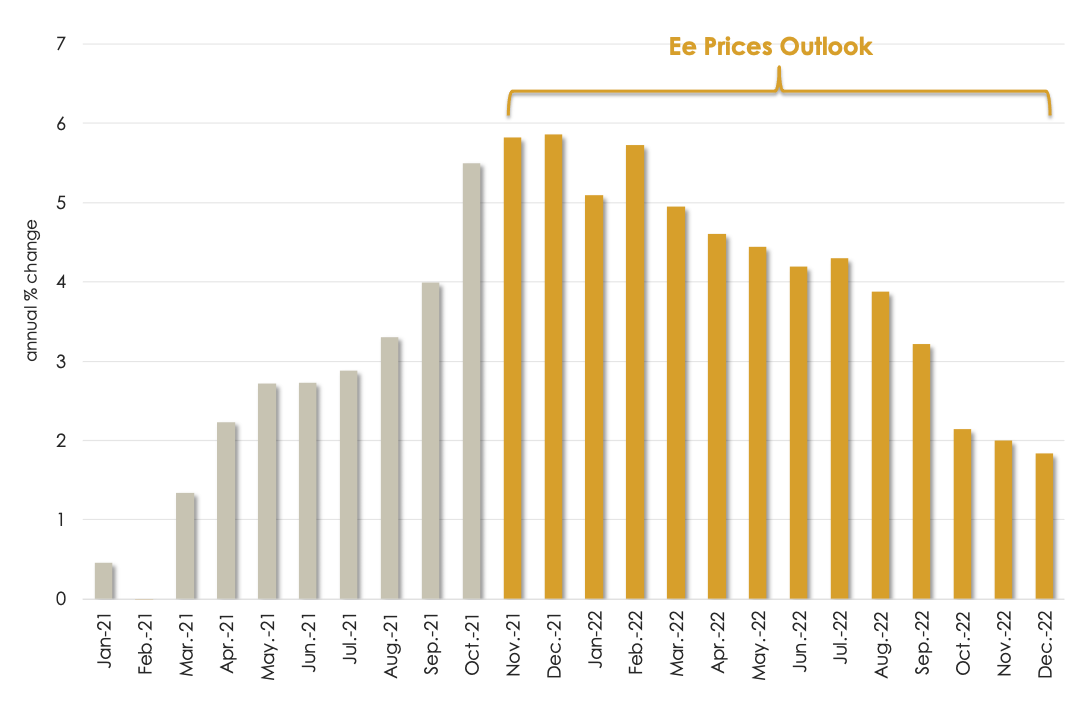 Source: Spanish Office of National Statistics, Equipo Económico forecast.
In the Spanish public sector, most revenues streams have reached pre-crisis levels in 2021 but, without spending cuts, debt was set at a record of 123% of GDP. On the other hand, the orientation of the State Budget Law Proposal for 2022 is not appropriate for the current moment of the Spanish economy, with strong demand, bottlenecks and supply rigidities, and price increases. It keeps expenditure at all-time highs, without reviewing its efficiency, generating more structural deficits and difficulties for its future financing. Moreover, the necessary reform effort is left aside, with limited and misguided advances on the pension system or rent prices. Furthermore, the regional financing system or the labor market reforms are still far from being enacted.
If you would like to go deeper into any of the aspects covered in this post, please, let us know. We have available upon request a more detailed assessment in the latest edition of our report "Ee SPAIN OUTLOOK for Business Strategy", where we perform a comprehensive analysis of the current situation and outlook for the Spanish economy in 2021 and 2022.
José María Romero Vera. Director for Economic analysis and International affairs.
Andrés Arronte Ledo. Analyst. Ee Economics.
Jorge Vindel González. Trainee. Ee Economics.